Kea (Tzia)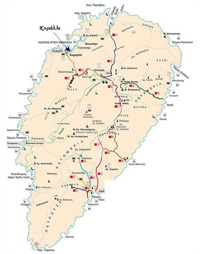 Origin from our Kea - Tzia, that some people have not yet been given the chance to be charmed by its virgin landscapes, fresh waters and gentle breeze.

Wandering imagination comes on Kea across a familiar view, scented by intimate, carefree memories, deriving from the local fairytales my grandmother used to put me to bed during my childhood nights.

Many people have asked me… "Why to Kea?"… "What's different from other adored destinations?". I do not reply... but with a simple nod I invite, I dare! Come travel to a place, where everything sings, breathes, lives!
On Kea the voices become rain drops on a winter's evening and the shadows get to dance along the alleys at high noon in summer.

The nature on Kea celebrates and deifies the existence of earthly paradises. Our land awaits to conquer you, like so many other visitors for so many years now.
Steer for Kea and its port, the most picturesque, natural bay of Korissia.

There it will welcome you, setting light to your most wandering thoughts, the first lighthouse ever lit in the Cyclades (1831), the lighthouse of Saint Nicolas, built on the ruins of the holy temple of Poseidon.
Come, don't hesitate… We are expecting you…